Permanently reduce your operating costs by extending the life of tyres, choosing the most suitable tyres and optimizing warehouse. All this with positive impact on reliability and safety. Use OptimTyre, get an overview, service in time and save even more.
GET AN OVERVIEW
You get quality and timely information about the condition of the tyres on your vehicles and in warehouses. You will have the overview what and when is for your tyres important to do.
With OptimTyre you will have all important information in one place, accessible from anywhere and anytime.
SERVICE IN TIME
With constantly updated data, you can identify the needs of your fleet faster and earlier than ever before.
Operations that prolong tyre life, will be done in time, to exploit their potential. Not miss any opportunity to reduce your operating costs at an optimal level.
SAVE MORE
With OptimTyre you know the cost per km and what tyres are most appropriate for you.
You can skillfully estimate the consumption of tyres in the next period and optimize your inventory.
This will reduce fuel consumption, the number of defects and unplanned shutdowns of vehicles.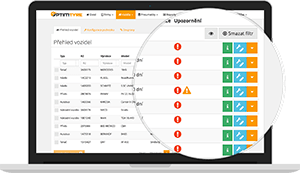 Accurate and up-to-date information is always within reach
All information about your tyres are complete in one place. Accessible to all users from anywhere and anytime.
High labour productivity
Mechanics can work online with tablets or offline with paper protocols. You will achieve the highest productivity by using tablet in combination with an inspection probe for tread depth and air pressure measurement.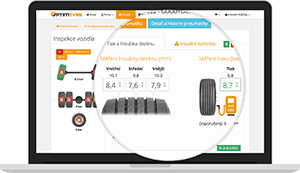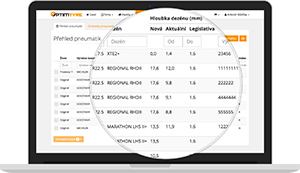 Unbeatable value, low price
By professional care and selection of suitable tyres you can reduce operating costs for tyres up to 30%. Your costs for using OptimTyre are known in advance, clear and without any hidden items.
Analyzes on one click
Up-to-date and fast-on-line analysis will enable you to make the right and timely decisions wherever you are.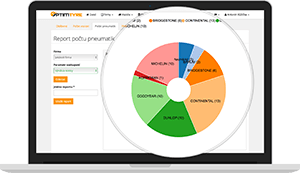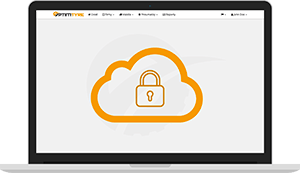 Secure cloud
Highest security and confidentiality of your data are obviousness.
What can the mechanics work with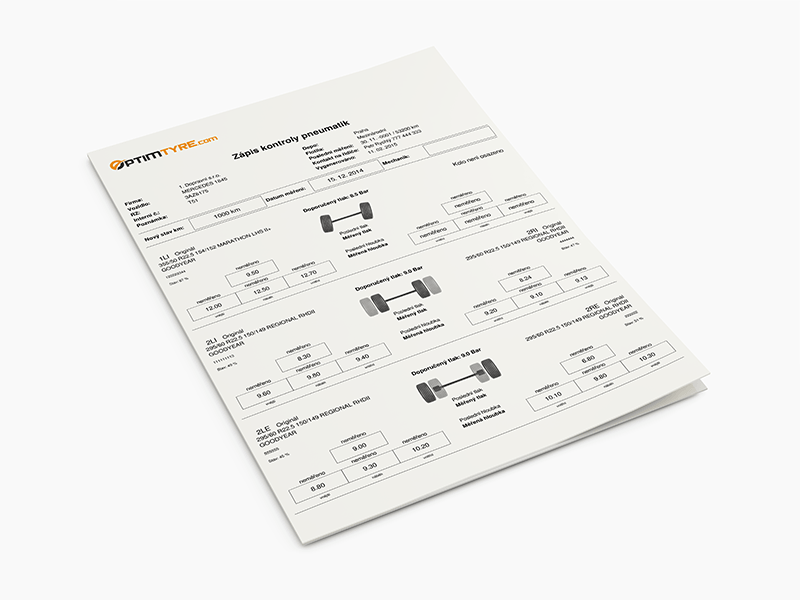 Paper protocol
Protocols for the next inspection can be printed from the application with the results of previous inspection
2 times laborious data collection (write a paper protocol, and then enter into the application)
It is necessary to minimize the delay between collecting and entering data and its distortion
Mechanic has a limited amount of information available (only data from paper protocol)
Actuality of data in the application depends on the speed of  protocol's entering
Tablet
Data is entered directly into the application (without delay, rewriting and distortion)
Mechanic has all the necessary information online
Tread depths and air pressure are measured by the standard equipment
The data in the application is always up to date.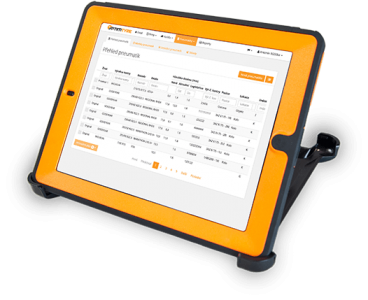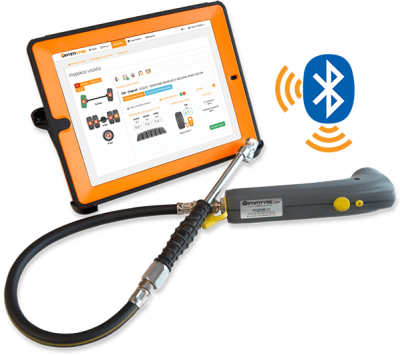 Tablet + inspection probe
Mechanics measure the tread depth and air pressure by the inspection probe. The measured values are transferred to the tablet via Bluetooth.
Other data is entered directly into the application (without delay, rewriting and distortion)
Mechanics have all the necessary information online
Measurement is much faster than by standard equipment, it is the most effective way of collecting data
The data in the application is always upto date
Are you considering using OptimTyre?
Are you not satisfied with the current level of tyre care? Are you looking for other savings possibilities with positive impacts on safety and reliability? Do you want to keep costs under control? Responses to these and other questions can be personally discussed during a free and non-binding consultation and presentation of OptimTyre directly in your office.
PRESENTATION AND CONSULTATION FREE OF CHARGE
Fill in and submit the following form. We'll contact you till the the next business day to arrange the date of presentation.

We offer OptimTyre in the "Software as a Service" model. Its user pays a one-time activation fee for user training, initial setup and application access, and then regularly monthly fee for usage.
The monthly fee is based on the number of tyres on vehicles and is thus directly proportional to the achieved savings.
Let us prepare a quotation tailored to your needs.
If you are interested in the quote, please fill out the following form or call +420 731 739 285. We will contact you till the next business day and prepare  a quote tailored to your needs.

OPTIM services s.r.o.
Rybízová 1870
289 22 Lysá nad Labem Czech Republic Mobil: +420 731 739 285
Email:
info@optimtyre.com
ID: 03256596
VAT ID: CZ03256596
Banking connections: 2100632733 / 2010
IBAN: CZ7220100000002100632733
Company headed by the Municipal Court in Prague, section C 229334